LIGHTING: TABLE - FLOOR - WALL & CEILING

Carol Milne, USA
Dandy, 2022
Kiln cast lead crystal with LED electrical components.
75cm.H x 31D / 29.5in.H x 12.25D
Price: $23,000

Carol Milne, USA
Gourdgeous, L to R: Nitsha, Kingal, Tatu
Kiln cast lead crystal with LED electrical components.
Tallest: 53.3cm.H x 29.2D / 21in.H x 11.5D
Price (L to R): $10,000 / $12,000 / $7,500

Carol Milne, USA
Squidknit
Kiln cast lead crystal, blown glass, LED electrical components.
35.6cm.H x W x 21D / 14in.H x W x 8.25D
Price: $9,000

Carol Milne, USA
Extension
Kiln cast lead crystal, aluminum, LED electrical components.
57.2cm.H x 33W x 21.6D / 22.5in.H x 13W x 8.5D
Price: $10,000

Dara Schaefer, USA
Parametric Mycelium, 2023
3D printed ceramic, glaze, electrical components.
70cm.H x 42W x 32D / 27.5in.H x 16.5W x 12.5D
Price: $9,500

Jeannette Ephriam, Netherlands
JEP.1801.V
Fiberglass reinforced polyester resin, sand, wood (Salix babylonica Tortuosa) electrical components.
110cm.H x 33D / 43.25.H x 13D
Price: $3,800

Jeannette Ephriam, Netherlands
Sweet Potato Cactus
Fiberglass reinforced polyester, MDF, PVC, electrical components.
106cm.H x 48D / 41.75in.H x 18.75D
Price: $5,500

Jeannette Ephriam, Netherlands
Gourd Lamp
fiberglass reinforced polyester, PVC, cord, sand.
59cm.H x 60W x 31D / 23.25in.H x 23.5W x 12.25D
Price: $3,500

Jeannette Ephriam, Netherlands
JEP.12.11.T
Fiberglass reinforced polyester resin, electrical components, wood (Ligustrum), seeds (feet).
44.5cm.H x 27D / 17.5in.H x 10.5D
Price: $3,500

Jeannette Ephriam, Netherlands
Gourd Lamp, White & Pink Tripod
fiberglass reinforced polyester, glass, cord, edlectical components.
34cm.H x 22D / 13.5in.H x 8.75D
Price: $2,500

Jeannette Ephriam, Netherlands
Gourd Light, Pink & White Stack
Fiberglass reinforced polyester resin, electrical components.
28cm.H x 28W x 17D / 11in.H x 11W x 6.75D
Price: $2,500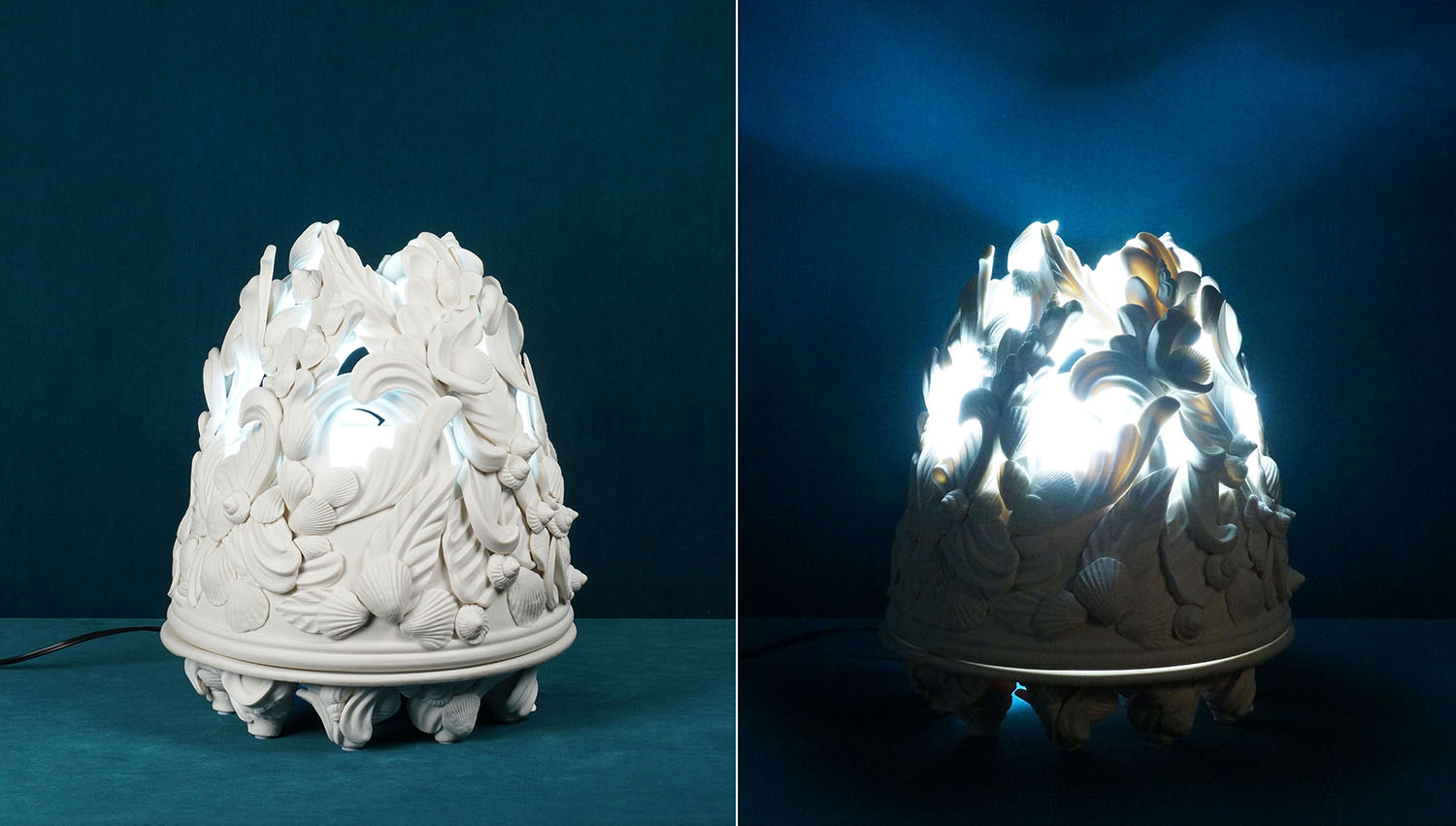 Jo Taylor, UK
Shell Grotto Lantern, 2023
Porcelain, LED lights, electrical components.
30.5cm.H x 26D / 12in.H x 10.25D
Price: $3,900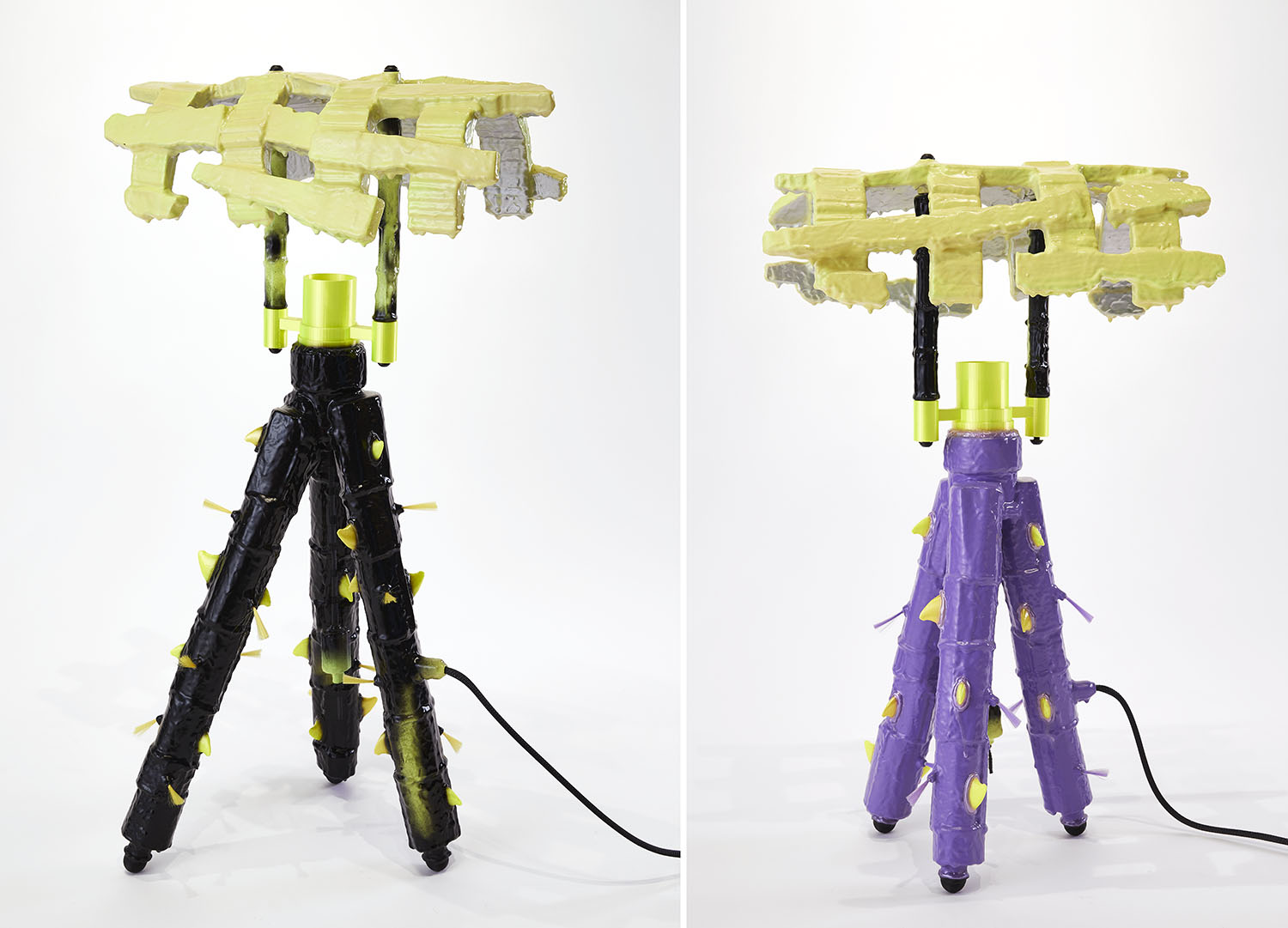 Jonatan Nilsson, Sweden
Thorn Lamp, Black
resin, styrofoam, 3D printed PLA, rubber tube, nylon, metal hardware.
91.5cm.H x 51W x 35D / 36in.H x 20W x 13.75D
Price: $4,900

Jonatan Nilsson, Sweden
Thorn Lamp, Purple
resin, styrofoam, 3D printed PLA, rubber tube, nylon, metal hardware.
79cm.H x 48.5W x 24.5D / 31in.H x 19W x 9.75D
Price: $4,900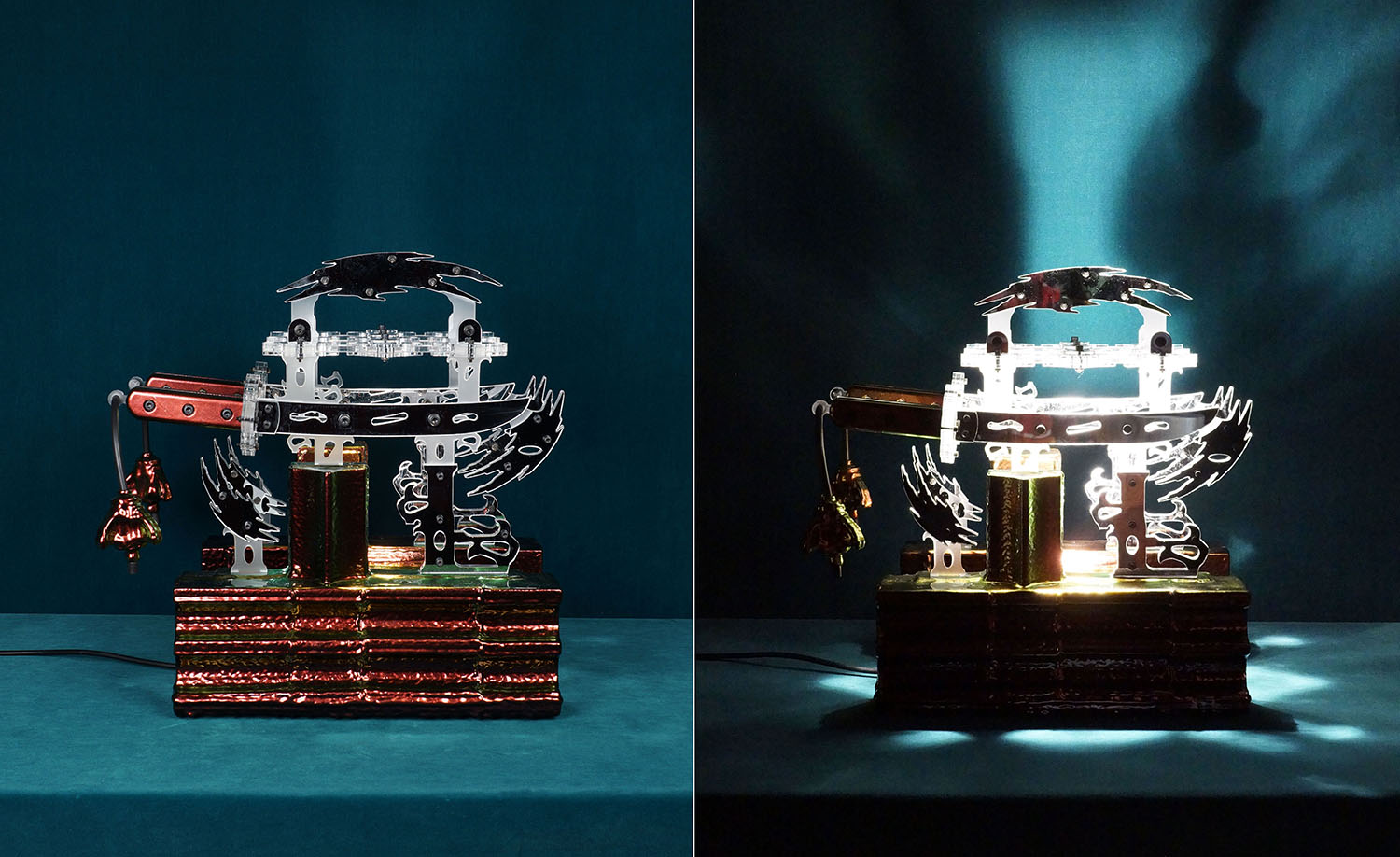 Jonatan Nilsson, Sweden
Ni Tantō Lamp, 2023
Resin, styrofoam, 3D printed PLA, rubber tube, nylon, metal hardware.
39.5cm.H x 44W x 22D / 15.5in.H x 17.5W x 8.675D
Price: $5,500

Jule Cats, Netherlands
Rise Lamp
Cement, resin, electrical components.
32.8cm.H x 15.5W x 10.8D / 13in.H x 6W x 4.25D
Price: $1,950

Kim Markel, USA
Floral Bubble Lamp II
Vetruvian plaster, hemp fiber, lime, marble dust, milk protein, mineral pigments, bioresin, bees wax, electrical components.
26.5cm.H x 19W x 14.5D / 10.5in.H x 7.5W x 5.75D
Price: $2,900

Kim Markel, USA
Floral Bubble Lamp I
Vetruvian plaster, hemp fiber, lime, marble dust, milk protein, mineral pigments, bioresin, bees wax, electrical components.
21.5cm.H x 23W x 16D / 8.5in.H x 9W x 6.25D
Price: $2,900

LGS Studio, USA
Cocoon Lamp
glazed stoneware, raffia, electrical components.
60cm.H x 46D / 23.75in.H x 18D
Price: $5,900

LGS Studio, USA
Nest Lamp 1, 2022
Glazed stoneware, electrical components.
61cm.H x 45D / 24in.H x 17.75D
Price: $6,500

Luke Proctor, USA
Bundle Lamp (custom order, 6 weeks lead time)
forged steel, mica shade, electrical components.
87.5cm.H x 51D / 34.5in.H x 20D
Price: $4,500


Luke Proctor, USA
Spike Lamp
forged steel, mica shade, electrical components.
81cm.H x 38W x 25D / 31.75in.H x 15W x 10D
Price: $7,500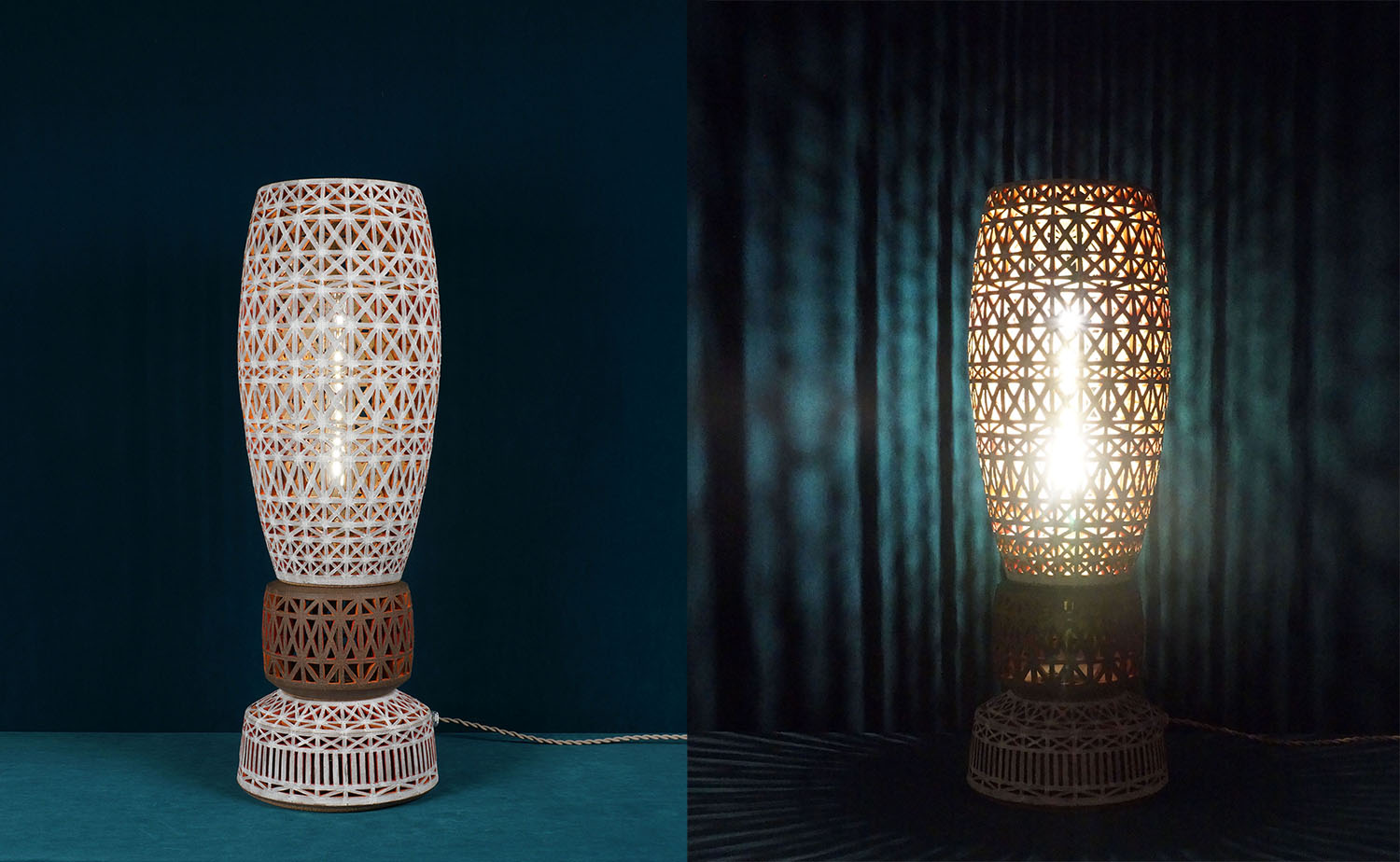 Matt Repsher, USA
Pierced Lantern, 2023
Incised ceramic, colored slip, cork, electrical components.
66cm.H x 22D / 26in.H x 8.75D
Price: $5,900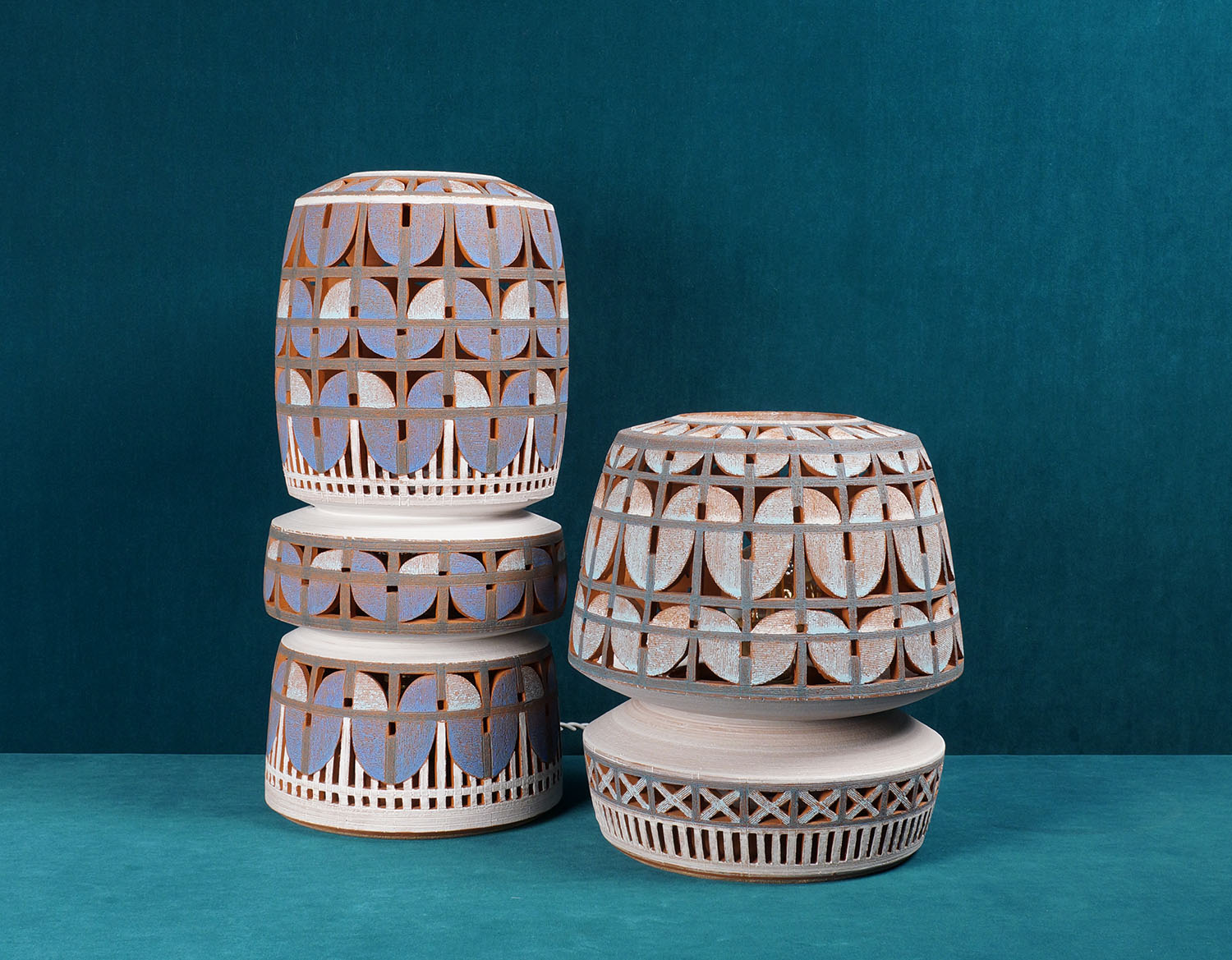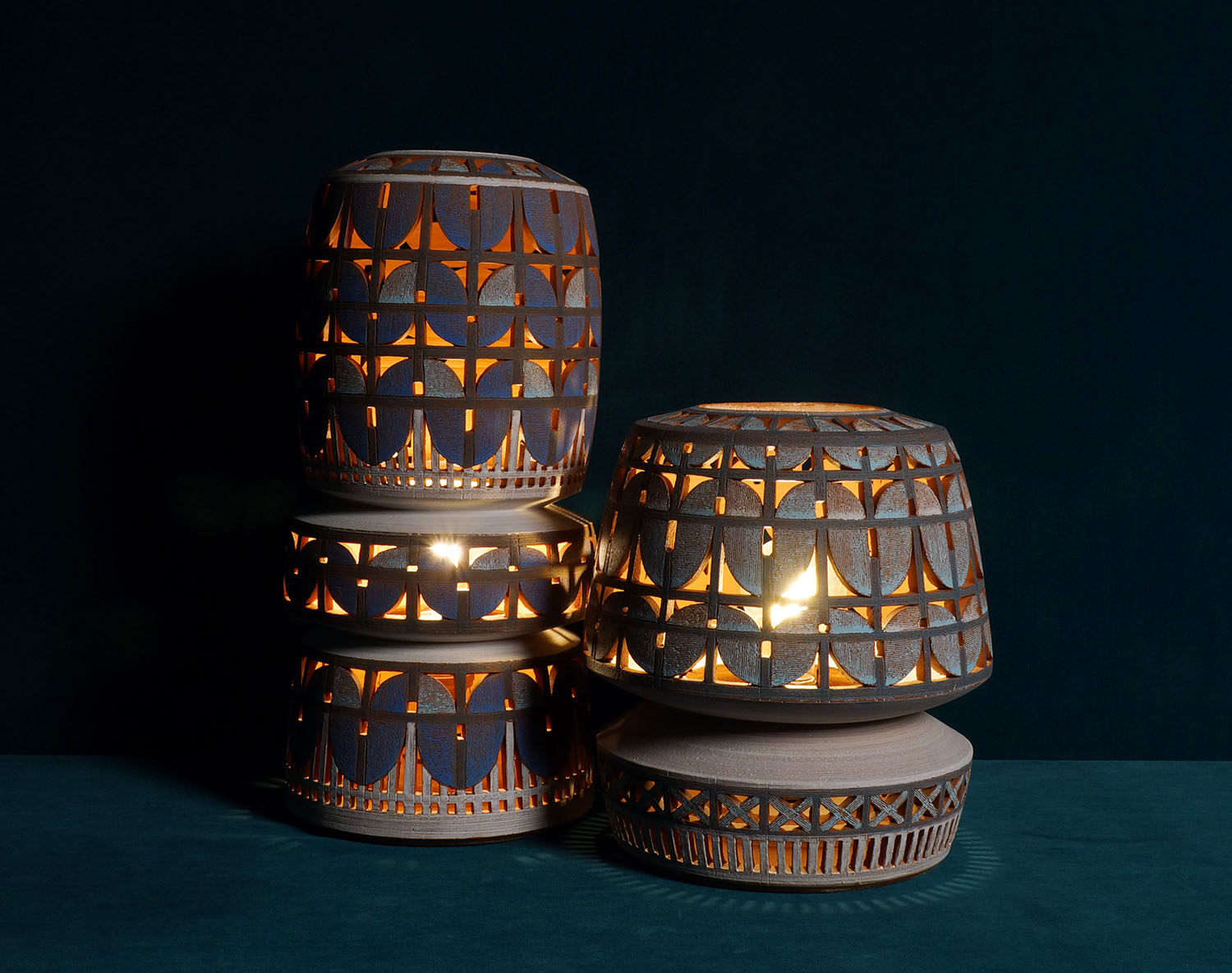 Matt Repsher, USA
Pierced Lanterns
Incised ceramic, colored slip, cork, electrical components.
Left, 40cm.H x 19D / 15.75n.H x 7.5D
Price: $4,800
Right: 25.5cm.H x 23D / 10in.H x 9D
Price: $3,800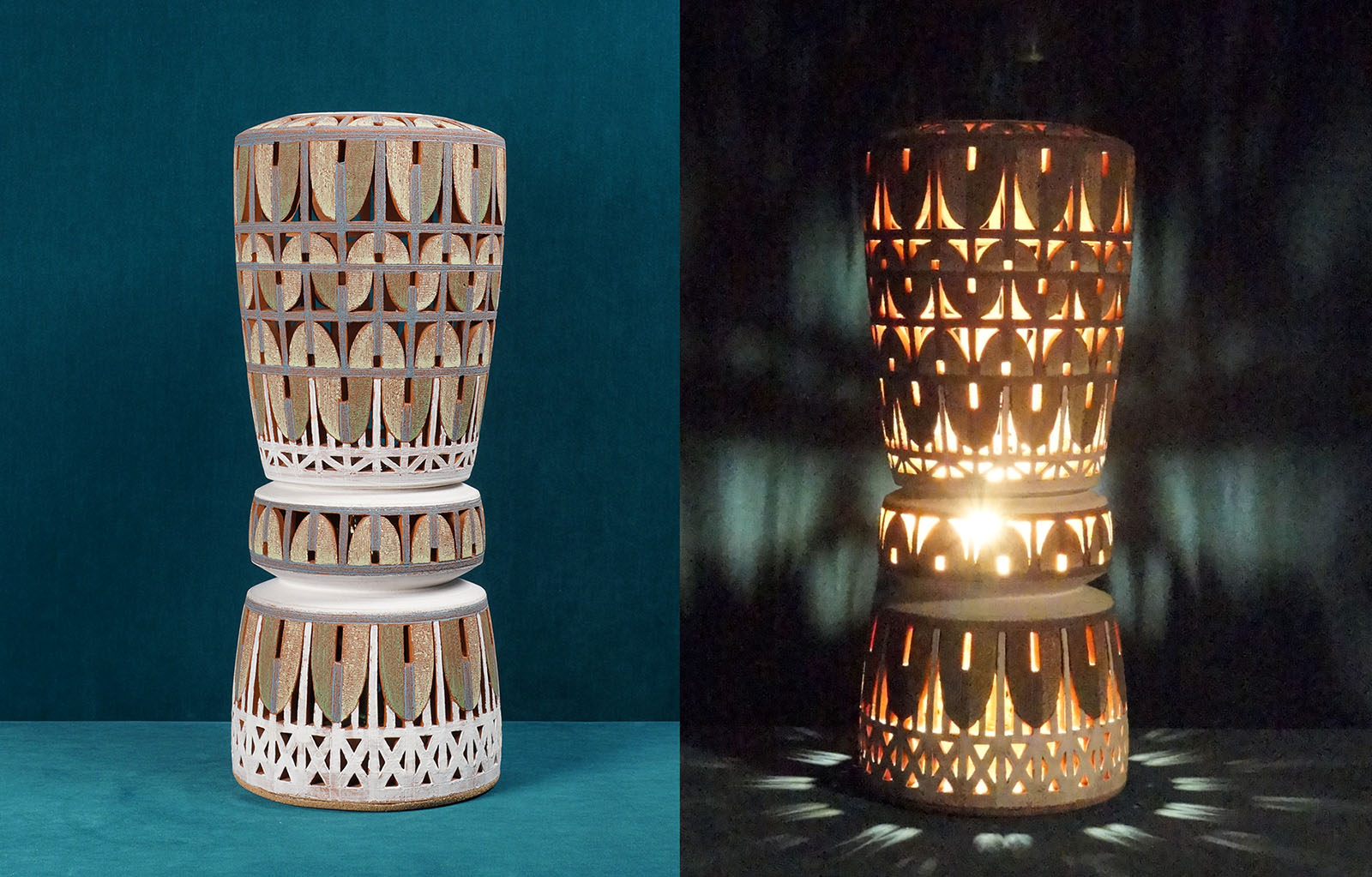 Matt Repsher, USA
Pierced Lantern
incised ceramic, colored slip, cork, electrical components.
40cm.H x 17.5D / 15.75n.H x 7D
Price: $4,900
FLOOR LIGHTS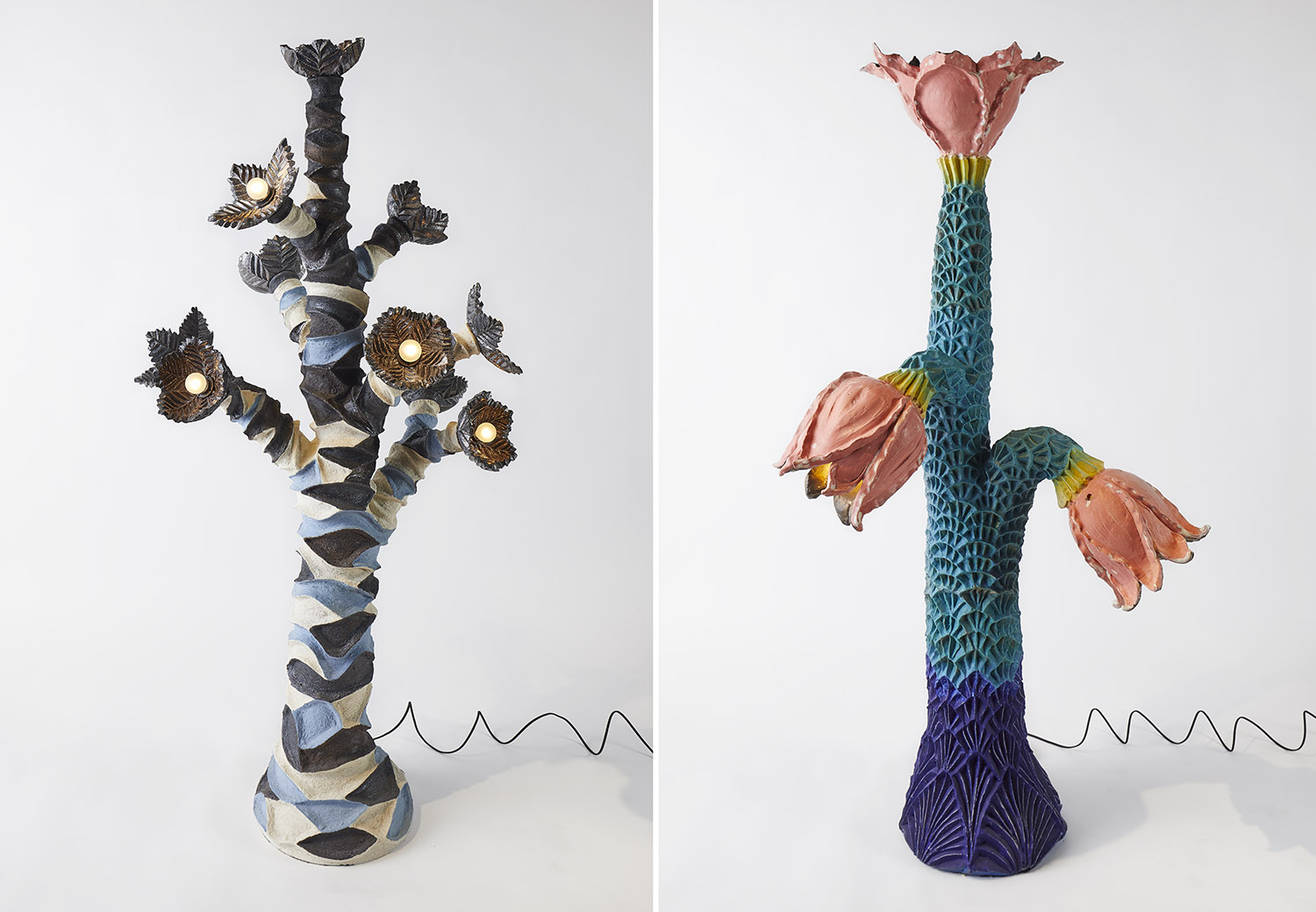 Christopher Maschinot, USA
Stoneware with glaze and electrical components.
Price: $18,000 each

Left: Blossoming Tree Lamp (unique)
163cm.H x 76W x 64D / 64in.H x 30W x 25D

Right: Flower Lamp (unique)
164.5cm.H x 72W x 64D / 64.75in.H x 28.25W x 25D


Etienne Marc, France
Arum, Three Stems (unique)
Porcelain, steel, selenite, Acrylic One, metal leaf, oil paint, carnish, LED lights and electrical wire.
234cm.H x 85W x 60D
92in.H x 33.5W x 23.75D
Price: $14,000

Rachel David, USA
Janus Lamp, Flesh, Pressure and Soil Series (unique)
Forged formed and fabricated steel.
179cm.H x 109W x 35.5D / 70.5in.H x 43W x 14D
Price: $25,000
WALL & CEILING LIGHTS

Benjamin Gillespie, USA
Carved Structure 1, 2022
Birch wood, milk paint, LED lights, electrical components, brass and steel hardware.
22cm.H x 172W x 100D / 8.75in.H x 67.75W x 39.5D
Price: $19,500
Handmade Industrials, Netherlands
Stalactite Light (unique)
Aluminum, fiberglass, polyester resin, epoxy resin, electrical components.
50cm.H x 50D
Price: $4,500

Isaac Monte, Netherlands
The Meat Project (limited edition of 5)
Discarded and decellularized meat, glass fiber, resin, varnish, electrical wiring.
largest: 90cm.H x 28D
Price: $6,500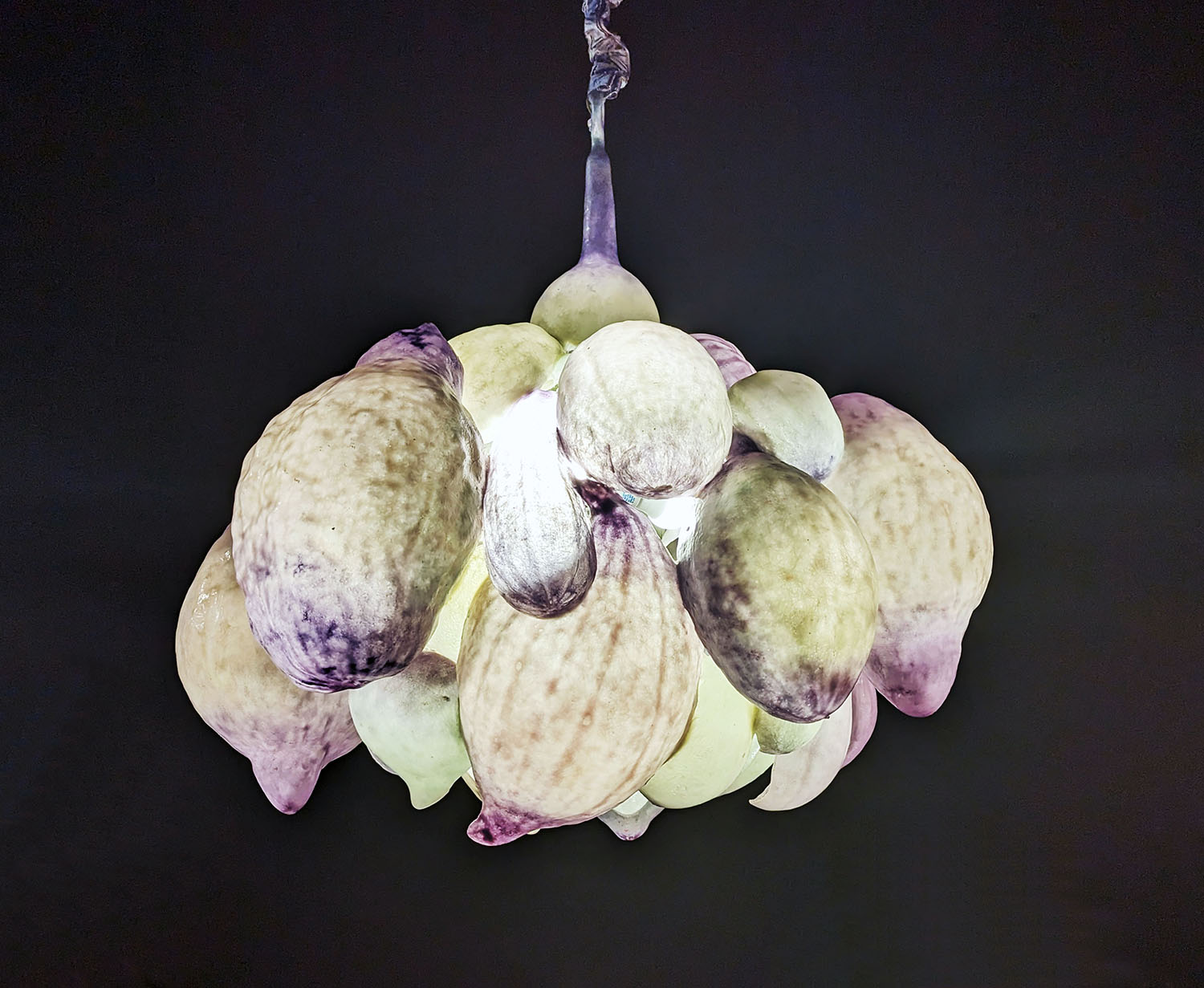 Jeannette Ephriam, Netherlands
The Hubbards Chandelier, 2022
Fiberglass reinforced polyester, glass, cord, edlectical components.
100cm.H x 90D / 39.5in.H x 35.5D
Price: $12,500

Kelly Witmer, USA
Kiln formed glass, steel, wire mesh, electrical components.
Left, Inventory #2160, Kilnformed Hanging Lantern 1, 2023
Price: $7,500
Right, Inventory #2176, Kilnformed Hanging Lantern 2, 2023
Price: $6500
I
Peeta Tinay, USA
Charm Bracelet Chandelier, 2022
Customizable color, hanging style and complonent quantity.
Vine rattan palm, cellulose fiber dye, UV archival varnish, wax finish, brass hardware, electrical components.
Variable dimensions. As shown hangs 10' long X 5' wide
Price: $38,000 (as shown)

Steve Shaheen, USA
Numina I & II (unique & custom)
Alabama Sylacauga marble, LED lights, carved wood armature, electrical components.
I: 41cm.H x 15W x 10D II: 55cm.H x 15W x 8D
Price: $9,500 each